Urban Bases
A little behind-the-scenes of the urban rubble bases for my Crimson Fists.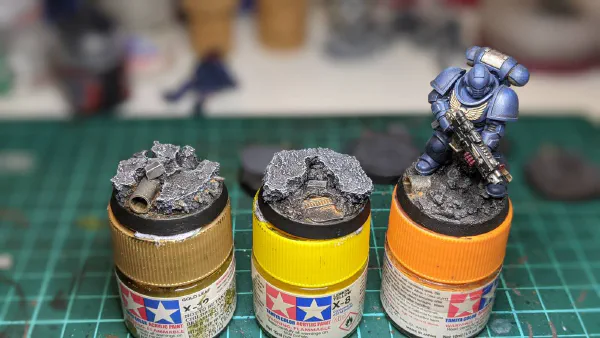 The kinds of bits I like to use:
Network cable coating makes great pipes
Network cable twisted pair for cables or smaller metal pipes
Cut up paperclips for metal pipes and rebar
SIM card / membership card plastic for plate metal
Classic cut spru for bricks
Cork for broken walls/concrete
Zip ties (various sizes)
Texture paste, sand, pebbles etc.
Painting is fairly simple: Black undercoat (the cork needs extra as it can soak the paint). Dry brush with various greys and whites. Then some black wash and repeating dry brushing as needed. Metals can have some rust effects with brown washes or rust effect enamals.